Factors to consider when choosing a Magnetic Chuck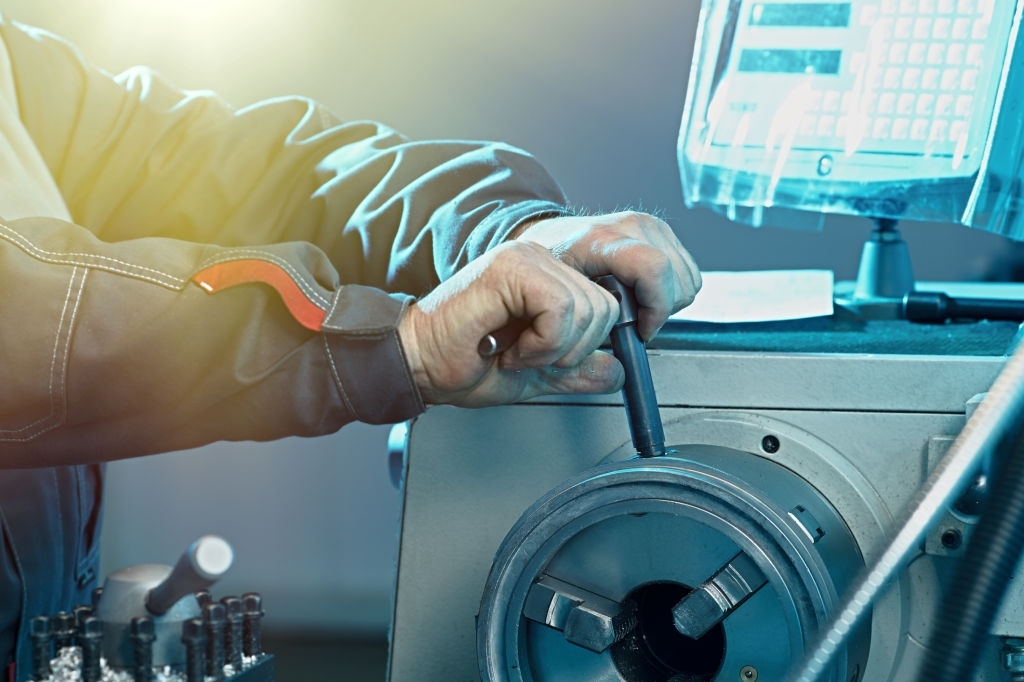 When choosing or using a magnetic chuck there are several key factors which must be considered which may affect the performance of the workholding capability.
Air Gaps/Work Piece Contact
An air gap between the magnetic surface and the workpiece will reduce holding performance. The highest performance is where air gaps are kept to a minimum and the magnetic hold is maximised.
Air gaps are determined by the profile of the workpiece and the surface finish. For example a lapped fine finished product will have an micron finished even surface and have the best workholding properties, whereas a rough planed surface will have a much poorer holding force due to air gaps prevalent in the uneven surface.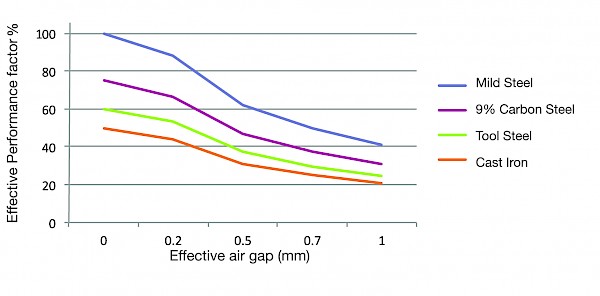 Materials Type and Configuration
The material type determines the magnetic clamping force. Some materials have less magnetic permeability and this will affect the hold. The chart below shows some examples of how the clamping force is affected by different material types. Material, hardness, shape and flatness of the workpiece material.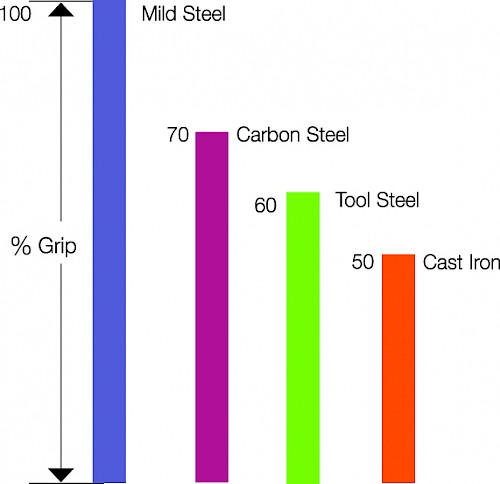 Material Thickness
Thinner materials are less absorbent of magnetic flux. The flux path within a workpiece is a semi-circle from the centre of one chuck pole to the centre of the next. If the workpiece is thinner than this radius it cannot absorb all the flux and some passes through. The resultant pull is lower than that of a thicker workpiece when all the flux is fully absorbed. This means the hold is greater.

AX Chucks: Variation of pull with workpiece thickness: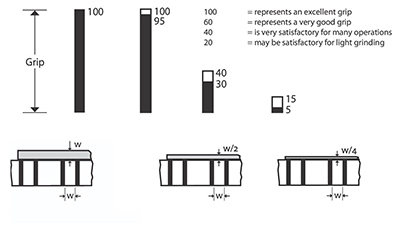 To hold a thin workpiece securely the pole pitch and radius of the magnetic flux must be reduced. There are two main methods of achieving this.
Fine Pole Chucks
Induced pole Chucks - please ask for details.
These chucks are ideally suited to small thin workpieces although they can also be used to hold larger workpieces for surface grinding applications.
Condition of the Workpiece
The heat treatment of a material affects its physical structure and its ability to absorb flux. Annealed materials are best. Hardened materials do not absorb flux as easily and tend to retain some magnetism when the chuck is switched off, sometimes making it difficult to remove the workpiece from the chuck.
Residual (or retained) magnetism can be removed from a workpiece by wiping the workpiece across an De-magnetiser, once it has been removed from the chuck.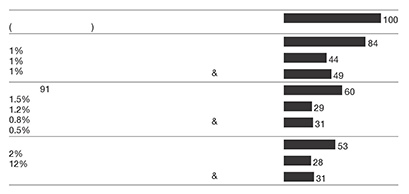 Workpiece Surface Area
Smaller surface areas have less available contact area with the magnet thereby reducing the overall holding ability. Positive or fixed stops may be required in addition on smaller workpieces.
To find out more please contact us or ead more about our workholding products
"我们很高兴从一开始就使用了易克磁性技术的产品和服务。"
"我无法告诉你磁性过滤器对我们的帮助有多大!磁性过滤器解决了我们很多的问题,超出了我们的想象,它甚至清除了30年了堵塞污垢!"
"这个产品经济,可靠,高效。我相信未来磁过滤技术必将广泛使用。"
"易克磁性过滤出乎意料地能够清洁我们的液体,并且改善了成品的表面处理质量。它每天能够过滤掉50公斤的金属颗粒."
"我们选择易克磁性技术是因为他们是个值得尊敬和悠久历史的品牌。他们能够提供非常有性价比的价格,服务过程非常好,安装及时,并且非常可靠。"
"我们非常高兴安装了Automag;它解决了我们先前关于停工和维护成本的问题。安装过滤器后,可以使用回收水帮助我们每周节约了£1000!"
"我们公司的宗旨是制造客户容易使用的产品,可靠,经济!易克磁性技术的小磁铁有着最强的磁性性能和最为经济的性价比。"
"易克磁性技术的Ultralift Plus磁性起重器是捡取和运输我们设备中的超声波校准块完美应用。"
"结果是非常美好的,它有效地捕获金属污染物,并且非常容易清洗……"