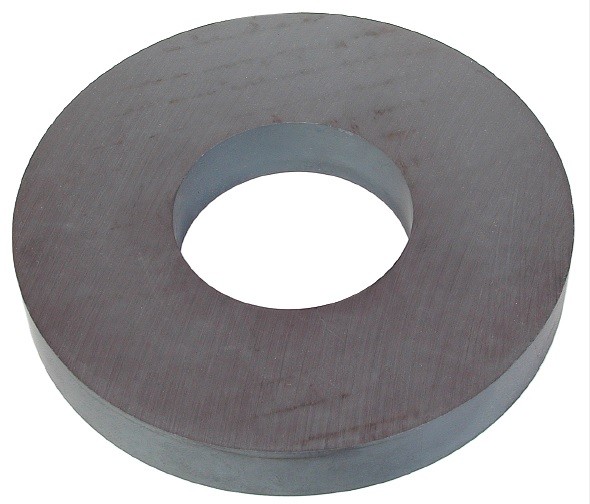 Ferrite Ring Magnet
Magnetic disc for clamping and holding applications
250° maximum operating temperature
Excellent resistance to corrosion
High resistance to demagnetisation
产品概览 - Ferrite Ring Magnet
A ferrite ring magnet is a ferrite disc magnet with a concentric hole inside it. A ferrite countersunk magnet is a ferrite ring magnet with one side appearing as a standard ring but the other side is seen as an angled countersink which allow a screw head to fit inside, the angle usually being (but not always) 90 degrees.
A ferrite counterbore ring magnet is a ring magnet with a cylindrical flat-bottomed hole on one side that enlarges the main central hole to take a cap head screw inside the magnet. Ferrite ring magnets are also known as ferrite pure rings, ferrite countersunk magnets, and ferrite counterbore magnets.
All the ferrite ring magnets are nearly always axially magnetised - the ferrite magnet is magnetised along its central axis. Unless stated otherwise the ferrite ring magnets, ferrite countersunk ring magnets and ferrite counterbore ring magnets are all axially magnetised. Axially magnetised magnets have one flat end circular face as a North and the other flat circular end face as a South. For pure ferrite rings, polarity is changed by simply turning the magnet over. For the countersunk and counterbore ferrite ring magnets, North versions have a North at the countersunk / counterbore side (with a South at the other end - which appears like a normal ring); South versions have a South at the countersunk / counterbore side (with a North at the other end - which appears like a normal ring).
In applications where the ferrite ring magnets are clamping onto ferromagnetic surfaces (e.g. mild steel), any version could be used - sometime placing in a N-S-N-S arrangement may give a small increase in performance as the magnets link their magnetism in a positive way. In applications where magnets are attracting magnets, just ensure that a North face of one magnet is attracting a South face of another magnet (unlike poles attract; like poles repel). When screwing ring magnets in place please do not over tighten the screws otherwise it may cause the Ferrite ring magnet to break. Ferrite magnets are brittle (like all magnets) and are not designed for load bearing (e.g. high clamping forces) We produce custom magnets.
产品型号
产品型号
Height (mm)
Material
Height (in)
N209
6.35
Ceramic 5
0.25
M15009B
10
Y30H-1 Ferrite
0.394
M15131B
8
Y30 Ferrite
0.315
M15224B
8
Y30 Ferrite
0.315
M15574B
10
Y35 Ferrite
0.394
M15575B
12
Y30 Ferrite
0.472
N210
10.9
Ceramic 5
0.43
N211
6.35
Ceramic 5
0.25
N213
6.35
Ceramic 5
0.25
N214
19.1
Ceramic 5
0.75
N212
12.7
Ceramic 5
0.5
"我们很高兴从一开始就使用了易克磁性技术的产品和服务。"
"我无法告诉你磁性过滤器对我们的帮助有多大!磁性过滤器解决了我们很多的问题,超出了我们的想象,它甚至清除了30年了堵塞污垢!"
"这个产品经济,可靠,高效。我相信未来磁过滤技术必将广泛使用。"
"易克磁性过滤出乎意料地能够清洁我们的液体,并且改善了成品的表面处理质量。它每天能够过滤掉50公斤的金属颗粒."
"我们选择易克磁性技术是因为他们是个值得尊敬和悠久历史的品牌。他们能够提供非常有性价比的价格,服务过程非常好,安装及时,并且非常可靠。"
"我们非常高兴安装了Automag;它解决了我们先前关于停工和维护成本的问题。安装过滤器后,可以使用回收水帮助我们每周节约了£1000!"
"我们公司的宗旨是制造客户容易使用的产品,可靠,经济!易克磁性技术的小磁铁有着最强的磁性性能和最为经济的性价比。"
"易克磁性技术的Ultralift Plus磁性起重器是捡取和运输我们设备中的超声波校准块完美应用。"
"结果是非常美好的,它有效地捕获金属污染物,并且非常容易清洗……"