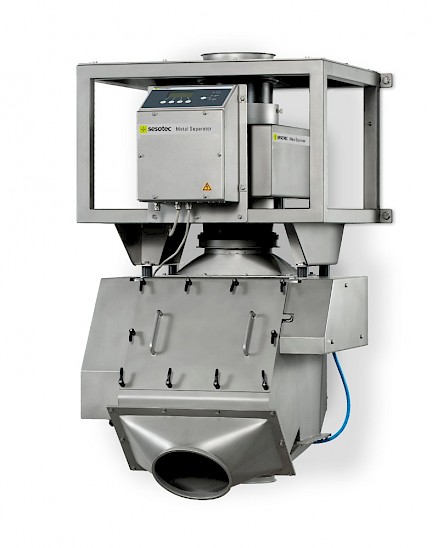 Hover to zoom
RAPID 8000 Metal Detector
Metal detector for gravity free-fall applications
Ideal for inspection of powdery, fibrous and chunky bulk materials
Ideal for chemical and food inspection
Detects and separates all magnetic and non-magnetic contamination
Auto-learn function makes operation easy
Ideal for use in industries which demand high hygiene standards
产品概览 - RAPID 8000 Metal Detector
Hygienic process protection against metal contamination
Effective metal detection for bulk goods in free-fall conveyor pipes (starting from a nominal width of 200 mm).
Separation unit and product-contacting metal parts completely made of stainless steel 1.4301 (AISI 304) which make them ideal for use in applications with demanding hygiene standards.
Features
Low-mounting height even with large nominal widths.
Increased interference immunity to electromagnetic pollution and vibration.
Metal contaminants are rejected by means of a swivel hopper.
The reject outlet is of dust-proof design during normal operation.
Hygienic design for easy cleaning
Applications
Incoming inspection (product purity and machine protection) of coarse spices with a high dust content
Bulk materials with coarse to fine-grained contents, ingredients, raw materials, etc. prior to the processing machine
Quality inspection (product purity) of food powders, sugar, salt, chemical additives (e.g. ascorbic acid, surfactants), etc.
Directly before filling in bigbags and silos
Metal separator for the inspection of powdery, fibrous and chunky bulk materials
For gravity feed separation see Easy Clean Grids
技术数据
Download Rapid 8000 Datasheet