Company Name: Schaudt Mikrosa GmbH.
Location: Leipzig/Stuttgart (Germany)
Eclipse Product Installed: Filtramag FM2.5
Industry: CNC Machine Manufacture
Process Type: Grinding Equipment
Our Client
Schaudt Mikrosa GmbH is a leading OEM of precision grinding machines for the automotive industry supplying some of the leading names in vehicle component manufacture. Schaudt manufacture 400 new machines each year. This application is for Camshaft grinding machines where finish accuracy is paramount. The machines are "factory fitted" with a Knoll paper band filtration unit. Coolant flows from the grinding contact area into an intermediate tank which is lined with a 20 micron paper barrier. The filtered fluid then flows into a clean holding tank before being pumped back to the contact area.
The Challenge
Schaudt were receiving regular complaints that grinding wheels were being damaged or even burning. Also the accuracy and quality of finish was not able to meet the required standard. On further investigation it was found that ferrous particles were building up around the grinding wheel and the surface of the Camshaft, this was having an abrasive effect on the surface finish and damaging the grinding wheels. The ferrous particulate consisted of hard steel (with a surface hardness of 55-60 HRC) from the camshaft and also carbide particles from the grinding wheels. Because the paper filter could only remove particles down to 20 micron anything smaller continued to circulate.
The Solution
Schaudt trialled Filtramag 2.5 in conjunction with the Knoll filters. Filtramag was fitted in the flow of dirty fluid from the machine ahead of the paper band filtration unit. Filtramag ensured that ferrous particles right down to sub-micron size were removed from the process. This ensured that the grinding area was kept free from contamination thus preventing damage to the grinding wheel and the machined part surface. Schaudt have estimated that Filtramag has reduced maintenance and downtime costs by at least 50%. It has also increased the life of grinding wheels by 25-30% resulting in a 10-15% fall in product rejections.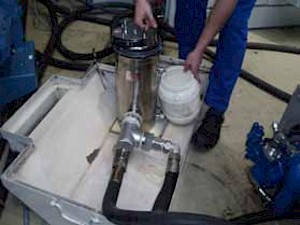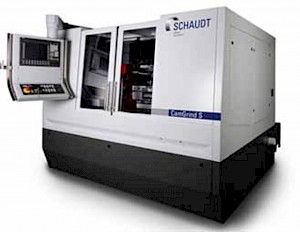 Daniel Mavro, Head of Technology & Process Engineering at Schaudt Mikrosa stated " we are delighted with the trial results, the initial investment in Filtramag is outweighed several times by the process efficiencies it presents. We will be reviewing the use of Filtramag on wider machining applications".
Find out more about Magnetic Filtration or contact us for more details
"我们很高兴从一开始就使用了易克磁性技术的产品和服务。"
"我无法告诉你磁性过滤器对我们的帮助有多大!磁性过滤器解决了我们很多的问题,超出了我们的想象,它甚至清除了30年了堵塞污垢!"
"这个产品经济,可靠,高效。我相信未来磁过滤技术必将广泛使用。"
"易克磁性过滤出乎意料地能够清洁我们的液体,并且改善了成品的表面处理质量。它每天能够过滤掉50公斤的金属颗粒."
"我们选择易克磁性技术是因为他们是个值得尊敬和悠久历史的品牌。他们能够提供非常有性价比的价格,服务过程非常好,安装及时,并且非常可靠。"
"我们非常高兴安装了Automag;它解决了我们先前关于停工和维护成本的问题。安装过滤器后,可以使用回收水帮助我们每周节约了£1000!"
"我们公司的宗旨是制造客户容易使用的产品,可靠,经济!易克磁性技术的小磁铁有着最强的磁性性能和最为经济的性价比。"
"易克磁性技术的Ultralift Plus磁性起重器是捡取和运输我们设备中的超声波校准块完美应用。"
"结果是非常美好的,它有效地捕获金属污染物,并且非常容易清洗……"